It's almost impossible to talk about New York City pizza without someone uttering the phrase, "the best in the city". New Yorkers pride ourselves on their pies, and everyone and their mother has their favorite spot. Given adequate provocation, they are ready to defend their favorite as the best of the best. And there's competition a-plenty. There are the old school classics - Grimaldi's, Patsy's, Lombardi's, John's on Bleeker. There's the new hipster-foodie regime – Motorino, Roberta's, Lucali. Artichoke, Best Pizza. The Brooklyn heavyweights – Totonno's, Di Fara, L and B Spumoni Gardens. And that's just the tip of the iceburg. There's the generic pizza parlor pie, dollar slices, grandma slices, sicilian, and thin crust bar pies.
Then there's Chicago, America's other great pizza town. If you haven't seen Jon Stewart's take-down of Chicago's deep dish pizza, its a must watch. (
http://www.thedailyshow.com/watch/wed-november-13-2013/tower-record
). Don't sleep on New Haven, Connecticut either. I've personally sat in 4+ hours of traffic just to pop into Frank Pepe's to get a slice of the clam pie.
Some are quick to disqualify the delivery franchises like Domino's and Papa John's as not-real-pizza, and yes, they are wholly, truly sub-par and gross. Yet, for every Corner Bistro Burger or Minetta Tavern Black Label Burger, there's a McDonald's, and I'd be lying to you if I told you I don't love a Big Mac. Lastly, there's the horrifying world of freezer pizza – Elio's, DiGiornio, etc. Please, I beg of you, leave those monstrosities to our mid-western compatriots, where they are forced, for lack of any other options, to consume such abominations.
But this entry is devoted to a style of pizza more pure, more authentic, than the above-mentioned contestants. To understand it, you have to trace the Italian-American heritage of New York pizza back to Italy, particularly – Naples. Neapolitan pizza is both the oldest sort of pizza and the newest variety to pop up all over the city. Neapolitan pizza is distinguished from it's progeny in that its typical smaller, usually about 8-12 inches in diameter and uses fresh ingredients, like San Marzano tomatoes and fresh bufala mozzarella cheese. The crust should be springy, yet crispy from having spent a short time in screaming hot wood-burning oven.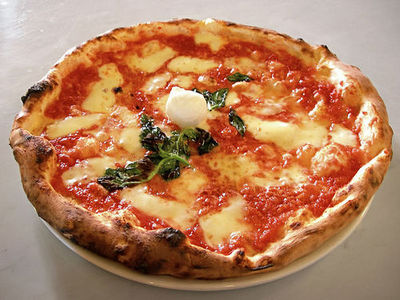 Forcella, just off of the Lorimer stop of the L train, is an authentic and excellent Neapolitan pizza spot. I had visited Forcella for the first time about a year ago, and I was a little disappointed, not because the pizza was bad, in fact, its great, but because at 8 p.m. on a Saturday nobody was inside. I feared that this great new pizza joint would be gone before I could return for more. I hadn't returned until just this past weekend, and to my surprise, the place was mobbed. (No pun intended, no seriously, please don't kill me, I have a family.) When we arrived, we asked for a party of two and promptly received the death-stare when we told them that we didn't have a reservation. After we were finally seated, more patrons flooded the narrow lobby and bar and waited for tables.
We ordered two pies. The first, and simply a must-order, was the Margherita Extra. The Margherita Pie is the flagship of all Neapolitan Pizza. Its so popular, most ordinary pizza parlor's carry some sort of bastardization. What makes it so delicious, and the reason its so scarcely reproduced correctly, is fresh ingredients. Forcella coats their pizza dough with a light and zippy fresh tomato sauce, before dolloping it with imported bufala mozzarella. If you have the dough (geez, I know, another pun) you can get Burrata, instead of the bufala. Then it goes into a massive wood-burning oven that takes up the rear quadrant of the open kitchen. It comes out bubbly and charred, and then gets hit with some good extra virgin olive oil and fresh basil. It's so simple its stupid, but it's all you need to make one of the... best pizza's in the city.
The second pie was a personal creation. The menu has a create your own pizza option, and I took full advantage. I started with a "Bianca" base, essentially fresh bufala mozzarella and parmesan cheese without the sauce. Then I added some prosciutto di parma. I swear, aside from maybe lobster, I don't think there's anything I'd rather eat than prosciutto. I finished the pie with a healthy pour of truffle oil. The pie was rich and decadent, but the doughy, chewy crust provided an excellent counterbalance to the toppings.
There's also a plethora of other pie's and toppings to sample. Cheeses include, bufala mozzarella, shaved pecorino, gorgonzola, provolone, ricotta, fontina, and burratta. Add to that, hot salami, garlic, anchovies, fennel sausage, prosciutto, truffle oil, mushrooms, eggplant, zucchini, arugula, olives, artichokes, and onion. Thats over ten million combinations! (I made that up, I don't know how to math).

We had intended on ordering a desert pie, essentially their pizza dough, fried and topped with nutella, almonds, and powdered sugar, but we didn't have room. Seriously though, how bad could that be? Forcella is BYOB too, so feel free to bring some wine to complement your pizza.
So, while I may not have resolved the "best in the city" pizza wars, Forcella is another arrow in the quiver to prove that New York City, with its multitude of styles and subsets is truly the mecca of pizza, this side of the Atlantic.